E! Online is weighing in on the already-infamous Nate-Blair kiss - one that has not even occurred yet, but photos from the Gossip Girl set make plain as day.
As has been hinted and rumored for weeks, a core couple is indeed reuniting on Gossip Girl. That cat is now out of the bag thanks to pics like the one below.
But what does this mean for the epic romance that is Blair and Chuck (Ed Westwick)? And why the heck are Nate and Blair kissing again right now anyway?
Gossip Girl sources say that unlike Blair and Chuck's deep (and at times adversarial) passion, a renewed Blair and Nate coupling is about familiarity and comfort.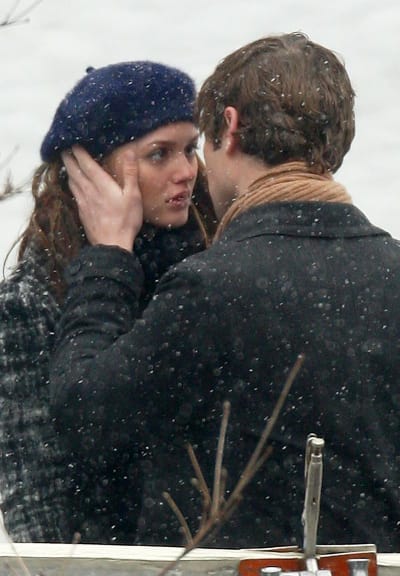 Pictures of Chace Crawford (Nate) and Leighton Meester (Blair) kissing on the Gossip Girl set this week have sparked debate and controversy. [Photo Credit: Splash News]
According to one Gossip Girl insider:
"Blair and Nate are both at a crossroads. Blair has to accept she isn't going to Yale. Nate is being sucked into his family's expectations, and they are both there for each other and enjoy the familiarity. At first it's platonic, but, of course, that doesn't last long."
Chair fans need not worry too much, however. Even though Nate and Blair may be together for the time being, Blair and Chuck have not been forgotten.
For that matter, Gossip Girl executive producer Josh Schwartz just told the Chicago Tribune last week "We get that that [relationship] works for people."
Schwartz's partner in crime Stephanie Savage also spoke about that incriminating photo, telling EW that "I think they look really cute together kissing in the snow," but when asked what a rekindled N and B romance means for C and B, she replied "Tell those Chuck and Blair fans to hang in there."
Steve Marsi is the Managing Editor of TV Fanatic. Follow him on Google+ or email him here.