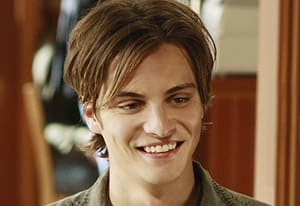 The Walker family expands tonight on Brothers & Sisters.

A new sibling will be added a twist to the mix this evening, as Ryan Lafferty arrives on the scene after his existence was discovered earlier this season.
He's the product of an affair, lost his mother, and now faces a new loss when he learns the truth about his past.
Actor Luke Grimes spoke with TV Guide about the character:
Can you tell us about your character, Ryan Lafferty?
He goes to the Berklee School of Music. He lived a pretty happy life up until a certain point when his mother died. And then he was very shocked to find out that the father who raised him is not his real father ... and his real, biological father's dead. So he finds out at a late age that he's an orphan. The rug's been pulled out from under him. He's a complicated guy.

Is Ryan sticking around for a while?
It depends on how everyone responds to it, and if the audience likes it. I know I have a four-episode guarantee, and after that it's fate.
Matt Richenthal is the Editor in Chief of TV Fanatic. Follow him on Twitter and on Google+.