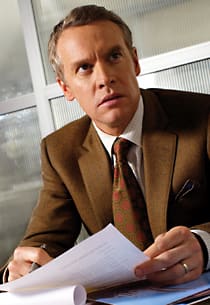 Tate Donovan can't reveal any Damages spoilers.
Literally.
The actor says he has little idea of what's happening on the FX show week to week. But Donovan did open up to TV Guide about his character of Tom Shayes, as well as what it's like to work with Emmy winner Glenn Close:
On a show chock-full of morally questionable characters, where do you think Tom Shayes falls?
I think he's better-looking than most of the people. [Laughs] No, I think the greatness of the show is that there is a lot of moral ambiguity, and everyone's capable of doing anything. That's what keeps it exciting — you just don't know which character is going to do what. You can't trust anything.
What's it like to work with Glenn Close.
Definitely. She's the type of actress who raises the level of everybody. Everyone on the set knows we have to do a great job because comes totally prepared, and she asks the greatest questions I've ever heard an actress ask. Our show is written and shot very last minute, and it's a crazy web that we weave. And she's really fantastic about always getting it right.
Matt Richenthal is the Editor in Chief of TV Fanatic. Follow him on Twitter and on Google+.