Aww, remember when Jake was that adorable little ten year old and Alan only had one ex-wife?  Season one of Two and a Half Men was priceless and we put together the most extensive collection of Two and a Half Men quotes to honor it.
Here's a collection of some of our favorite quotes from the most impressive bachelor on television.  Sorry, Barney, you come in a very close second.
Alan: Jake, for the last time, nobody got "creamed", no one won, no one lost.
Jake: Yeah except for us, twelve to two.
Charlie: Well, it doesn't matter if you win or lose, it's whether or not you beat the spread | permalink
Charlie: So what are you doing here?
Evelyn: Well, I'm showing a house at the beach and I thought while I'm in the neighborhood I would drop off a gift for my grandson.
Alan: You're writing him a check? What kind of gift is that?
Evelyn: You told me he likes Transformer toys. This check transforms into any toy he wants | permalink
Charlie: I need to show Lisa that I'm a family man.
Alan: But you're not.
Charlie: That's not the point. She's about to go off and marry some jerk, just because he loves her and wants to settle down.
Alan: Oh, I see. You're Satan | permalink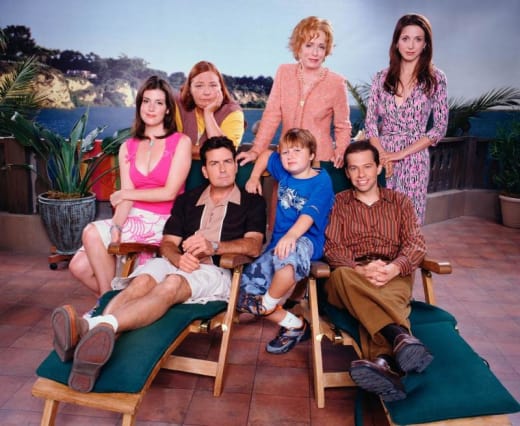 Jake: Berta, does Prudence have a boyfriend?
Berta: Oh, honey, don't get me started.
Jake: What does that mean?
Berta: It means if she gets a high school diploma before she gets a baby, she'll be the first one in the family | permalink
Charlie: Hey, that was quick.
Alan: Yeah. Like every other time Judith screwed me.
Charlie: What happened?
Alan: What happened? I'll tell you what happened. My settlement conference turned into a drive-by colonoscopy. | permalink
Alan: Fine. Why don't you get a vasectomy?
Charlie: I've considered it. In fact, a couple of years ago, I believe there was a petition circulating. | permalink
Eric Hochberger is the programmer of TV Fanatic, so please forgive his mediocre writing. His programming is far better. Follow him on Twitter and/or email him. Just don't request threaded comments. They're coming.