It's been a heart-wrenching month for fans of Gossip Girl as TV's hottest show took a brief hiatus. But now Blair Waldorf, Serena van der Woodsen, Chuck Bass and Co. are finally back - and on the cover of the new issue of Rolling Stone.
Well, Blair and Serena are. Looking very hot, on the magazine's cover and in a photo shoot that makes the OMFG and other racy ads look tame by comparison ...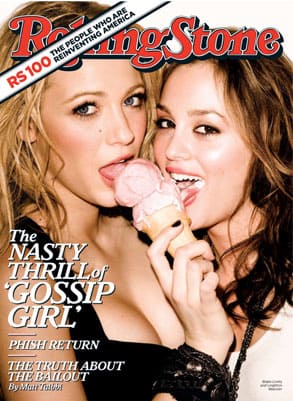 Despite barely scraping together three million viewers a week, the show has become the most talked-about, culturally relevant series on television.
To get the dirt on what it's like starring as beautiful young people in New York while being beautiful young people in New York, Rolling Stone's Jason Gay hung out with the Gossip Girl cast on set and after hours, catching all the action. He says:
"It's very strange to see a mob of paparazzi photograph Blake and Serena in character as they film an outdoor scene. It's as if the reality of the show exists behind two lenses - real time and TV time. All the actors enjoy the outside stuff because of the fans, too. It's like playing on stage or something. More energy, more excitement and the sense that anything could happen. And sometimes it does. There is no such thing as a closed set in NYC!"
Follow the link to read the full Rolling Stone article, and click to enlarge the photos of Blake Lively, Leighton Meester and the rest of the cast below ...
Steve Marsi is the Managing Editor of TV Fanatic. Follow him on Google+ or email him here.