Grey's Anatomy Spoilers: Mer-Der, Owen-Stina
Steve Marsi at .
Michael Ausiello of EW has published his weekly spoiler Q&A, and as usual, it contains a healthy dose of Grey's Anatomy rumors, news and gossip. Let's get to it:
Q: You got anything on the Mer-Der proposal on Grey's Anatomy?
A: Mer not only learns about the engagement ring in next week's episode, but she sees it, too. Unfortunately, the circumstances are less than ideal in both cases.
Q: Please, give me some spoilers regarding Cristina and Owen on Grey's Anatomy. I'll settle for anything!
A: Even if it's a little icky? Okay, you asked for it: Owen's post-traumatic stress disorder will take a turn for the worse when he ends up physically hurting Cristina, albeit unintentionally.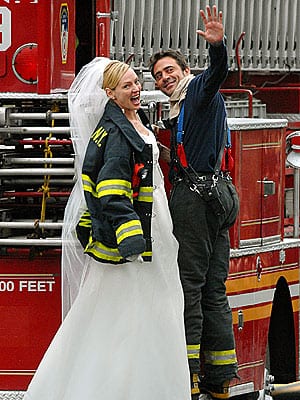 Q: Put my mind at ease and tell me we won't be seeing dead Denny again on Grey's Anatomy.
A: I bring you good news from Jeffrey Dean Morgan. "If they are planning on having me back this season, they'd have to do it awfully fast because I am about to have a major scheduling conflict," Morgan said at Monday's Watchmen premiere. "I'm going to shoot a movie called The Resident with Hilary Swank. It is pretty much Psycho meets Fatal Attraction. I am a guy who becomes obsessed with Hilary's character. So I don't see how Denny could make a comeback this season. There's always next season. You know, I trust Shonda [Rhimes], so if she wanted me back, I would do everything possible to get it done. But I think dead Denny played his part. He gave Izzie the warning. In a way, the whole Denny ghost-reaper-angel thing was similar to my experience with fans of Watchmen. People were merciless about both projects on the Internet, and eventually you just have to stop reading and trust your boss and do your best."
Steve Marsi is the Managing Editor of TV Fanatic. Follow him on Google+ or email him here.