On tonight's new episode of Criminal Minds, actress Paget Brewster plays a key role, as a rogue priest conjures up demons from Emily Prentiss' past. Weird.
Brewster gave TV Guide a preview of the episode, titled "Demonology." Here are excerpts from an interview she gave the publication:
TVGuide.com: Might "Demonology" change the way we look at Prentiss?
Brewster: Possibly. She has a past and it's a little controversial, as to how she knows this victim, a friend of hers from when she was a teenager in Rome. She asks Hotch, "Can I look into this?" And then she uses her position as a federal agent questionably in seeking out the truth. And there is something that happened to her as a kid that..... Well, it's risky what they wrote. We'll see how people respond.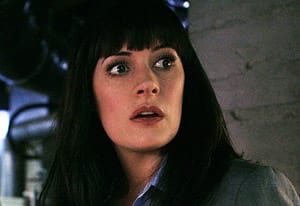 TVGuide.com: Have you shot the episode with Alex O'Loughlin yet?
Brewster: Oh, Alex.... Alex sets all the girls into a twitter. Various departments were vying for Alex's attention. We just finished that this past Saturday morning, at 5:30 am.

TVGuide.com: Are there plans for another explosive season finale?
Brewster: I haven't heard anything yet. We're doing 26 episodes, and most shows do 22, so we should have finished two episodes ago. It's a grind.
Matt Richenthal is the Editor in Chief of TV Fanatic. Follow him on Twitter and on Google+.