Grey's Anatomy series creator Shonda Rhimes has already confirmed that one of the show's couples will tie the knot later this season - the only question is who.
There's increasing buzz, according to EW, that the event will take place on May 7, during the show's landmark 100th episode, appropriately titled "Beautiful Day."
Adding to the speculation: The episode will feature a minister.
The bigger question than when it will happen, of course, is who is walking down the aisle? One source close to Grey's Anatomy says Derek and Meredith will finally, finally take the plunge - something a show spokesperson would not confirm or deny.
Keep in mind, though, that Rhimes said Grey's viewers would be surprised by the bride and groom's identities. What would be surprising about a Mer-Der wedding?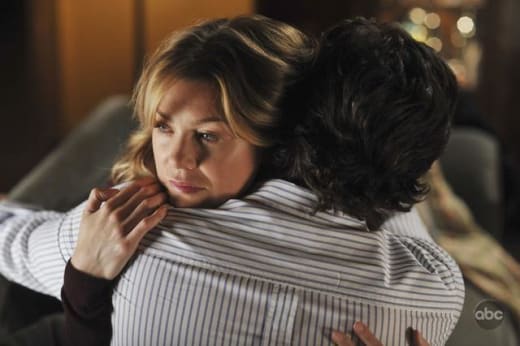 Maybe the speed with which it would have taken place. Sure, the star-crossed lovers have been dating for four years, but a May 7 wedding would make for a lightning-fast engagement - considering the two aren't even technically engaged yet.
While it's unofficial, all signs point to Meredith accepting Dereks's elevator proposal this Thursday night in the also appropriately-titled "Elevator Love Letter."
"Shonda is probably counting on fans thinking a Der-Mer engagement would be just as drawn out as their courtship," speculates one Grey's Anatomy insider.
"So to marry them off seven weeks after getting engaged would certainly qualify as a surprise."
Thoughts? Would a Mer-Der wedding catch you off guard? Or is Shonda pulling a fast one and having another Grey's Anatomy couples tie the knot?
Steve Marsi is the Managing Editor of TV Fanatic. Follow him on Google+ or email him here.