Welcome to the 90210 Round Table!

A few TV Fanatic staff members are here to analyze the burning questions and memorable moments from the latest episode, "Life's a Drag."

This week's topics from the show include Silver's sanity, Annie/Ethan, Liam and more...
Silver's mental status makes her: Hot or Crazy?
BrendaLova: Silver has to eat a few cheeseburgers before she can be considered hot. And that's before we even get to how many screws this girl has loose.

The Real McKay: Crazy.  Really, really, scary, crazy.  I'd like to refer to Barney Stinson's crazy/hot scale from How I Met Your Mother: Silver is pretty hot, but waaaay below the Vickie Mendoza line. Seriously, even those beautiful eyes and anorexic body can't justify throwing a rock through your teacher's window!

Wild4Wilds: She's clearly crazy. But, be honest fellas: would any of you kick her out of bed?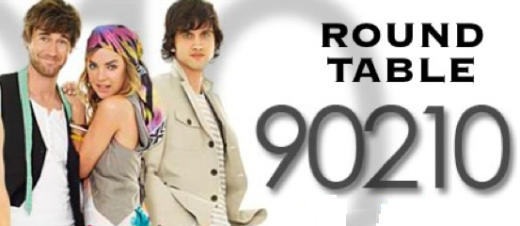 Are Ethan and Annie really over?
The Real McKay: One can only dream.

Wild4Wilds: Considering the news that Dustin Milligan isn't returning next season? I'll say yes.

BrendaLova: No. How can Ethan resist that skeleton-like body and shallow personality?
Is Liam a welcome addition to the show?
Wild4Wilds: Yes. Naomi is a bad girl. She needs her very own bad boy.

BrendaLova: Yes. But can we slow down on the comparisons to Dylan McKay? The guy needs a law-breaking father, brooding personality and eyebrow scar before he can be mentioned in the same breath as that iconic character.

The Real McKay: Anyone that gets us a fast and the furious scene in a GTO is an absolutely worthy addition to any show.  Welcome, new Dylan.
What grade should Mr. Matthews give Silver's project?
BrendaLova: I don't think Mr. Matthews is qualified to grade that video. Can West Beverly hire Ray J as a guest teacher?

The Real McKay: I'm going to go with an A minus.  Let's be honest.  Sure, it had some inappropriate content for high school... or life.  Sure, she's a complete nut job.  But, wow, I thought it was very artistic and well done. If you could get it below ten minutes, you'd have had the full A.

Wild4Wilds: No better than a C. I didn't think the score properly illustrated the depth of Dixon and Silver's love for one another inside that closet.
Matt Richenthal is the Editor in Chief of TV Fanatic. Follow him on Twitter and on Google+.