Jessica Stroup doesn't merely star as Erin Silver on 90210.
Her character is currently involved in the show's main storyline, as Silver misplaced a few of her marbles last week. She filmed a sexual encounter between herself and her boyfriend and used it as a school project; she then broke into her teacher's apartment and pretty much threatened to kill him if he didn't fix the situation.
Ah, life in Beverly Hills.
We recently spoke with Stroup, who updated us on Silver's mental state, while also providing a glimpse into the future of the series...
TV Fanatic: When did you find out about the current direction of your character? Did you always know Silver would develop mental problems?
Jessica Stroup: I had a meeting with the writers in January, as soon as we got back from Christmas break. They asked if I wanted to tackle this and I just thought of the challenge. I really wanted to give it a go.
Since then, if you've noticed, we've been building questions and suspense. You can go back and ask questions, like why did Silver get so upset about the chocolate cake [in the Valentine's Day episode] and why is she so mad at certain times?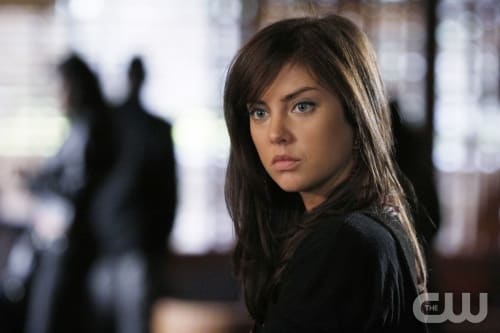 TV Fanatic: Did you do any special research into bipolar disorder, or any other psychiatric issues, in preparation for this storyline?
Stroup: I'm a visual person, so when it was decided that we were going in this direction, I went on YouTube and typed in a series of related keywords. There are a lot of brave people that have made videos and talked about what they've gone through.
The most important thing I learned is that, in Silver's mind, her ideas make sense. Why would Dixon get mad that students saw their sex tape? Wasn't that a beautiful act? In her mind, she certainly isn't crazy.

TV Fanatic: You've worked closely with Jennie Garth. Did she give you any advice about handling the growing fame a show such as this brings with it?
Stroup: I love working with her. She's everything all wrapped into one: mother, wife, professional, star. She's created this amazing world for herself. She's so supportive,  so open-minded. I've been in awe of her.

TV Fanatic: What's it been like adjusting to life in the spotlight?
Stroup: It's been a huge adjustment. I had done some movies and acted on other shows, but I've certainly never been followed around by paparazzi before. Mostly, I've learned who to trust. But overall, I love the industry, I love my job, love where I live. I'm not gonna let the paparazzi or anyone ruin this for me.

TV Fanatic: What's it like to work with Tristan Wilds?
Stroup: He's like my goofy older brother. Except that he's younger. He's the most unique person I've ever met. He's a singer, a poet. You think he'd walk in with some big ego... but he's the sweetest guy I've ever met.

TV Fanatic: You also filmed scenes with Tori Spelling. What was that like?
Stroup: Tori is hilarious. Her first scene on set was with me. It was bizarre to see her back in her element, considering everything else she's done since the original show, like writing a book, starring in a reality show.
One of my best friends on set is in wardrobe, and I had gotten her a Tori Spelling t-shirt months ago, before we ever knew she was coming back. She wore it on Tori's first day. It was great.

TV Fanatic: The major 90210 news this week involved the announcement that Dustin Milligan would not be returning next season. What's your reaction to that?
Stroup: You'll have to wait and watch. As a cast, we get told everything last. We don't get scripts until the day before shooting. I can't confirm nor deny anything regarding that.

TV Fanatic: Can you give us any spoilers?
Stroup: Tuesday's show picks up right where last week left off. And there's a bit of a scuffle, let's say.
As the storyline progresses, you'll see why Silver is acting the way she has been. She's sort of been rebelling against who she once was, or wanted to be. She actually ends up going down a really conservative path. But then the prom comes along and she starts to go back to the old Silver again.
Matt Richenthal is the Editor in Chief of TV Fanatic. Follow him on Twitter and on Google+.