The second season finale of Damages airs tonight.
As usual, the legal drama has spun itself a web of intrigue and suspense, leaving viewers with a number of questions needing to be answered this evening:
Did Ellen really shoot Patty in that hotel room? What will to happen to Daniel Purcell now that he's confessed to murdering his wife? Will Wes take out Ellen?
Producers Todd Kessler and Daniel Zelman previewed tonight's installment with TV Guide, taking readers character-by-character, storyline-by-storyline...
Patty: Is there any way she can have a happy ending?
"Throughout the season, Patty has lost huge support systems in her life," Zelman said. "The idea is that Patty has sort of isolated herself to the point where all she has left is Ellen. The question is: Will Ellen betray her?"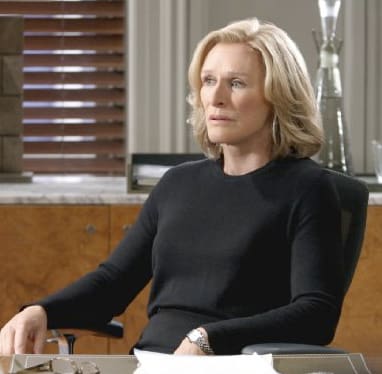 Ellen: Does Ellen seek forgiveness or revenge?
"That's really what the finale is about for Ellen," Zelman said. "She gets to a place where she can make that decision. The question is: What is she going to decide? And where does she go from there?"

Daniel Purcell: Is he going to jail?
"Our show is all about gray area, and what we found intriguing is that he thinks he [killed his wife], but it's more complicated than that," Zelman said. "The bad guys could have saved his wife, but they didn't. We really wanted to end his story on an interesting, complicated note."
Tom: How can Tom still have a soft spot for the woman that fired him?
"Tom's a loyalist, and at the end of the day, he's always going to try to protect Patty," Zelman said.
Matt Richenthal is the Editor in Chief of TV Fanatic. Follow him on Twitter and on Google+.