A quick note for those who STILL have not bothered to check out the best show nobody cares about, but NBC clearly values, having just given in a two-season pickup.
From executive producers Peter Berg (The Kingdom) and Brian Grazer (The Da Vinci Code), the third season of the critically acclaimed, Emmy Award-winning series Friday Night Lights, currently airing on NBC, is coming to DVD on May 19.
Inspired by the best-selling book and theatrical film of the same name, the show features a great ensemble cast led by Kyle Chandler and Connie Britton and provides a heartfelt look at life, love and football in the small West Texas town of Dillon.
All 13 episodes of Season Three of Friday Night Lights will be featured on the four-disc set along with bonus features. Seasons Four and Five (2009-2010 and 2010-2011) will each contain 13 episodes as well, airing on DirecTV in the fall and NBC in spring.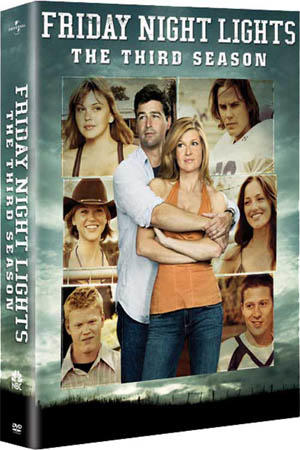 Steve Marsi is the Managing Editor of TV Fanatic. Follow him on Google+ or email him here.