For months, House fans have been asking "Will they or won't they?" in regard to House and Cuddy having sex.
With the answer to that question confirmed, Michael Ausiello says viewers can now ponder a new possibility:
Might House be headed for a mental hospital?!?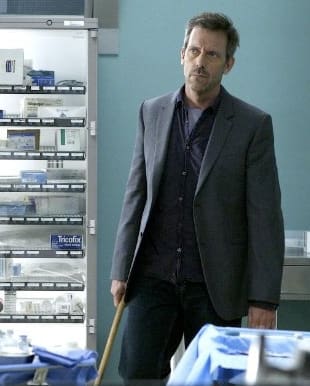 The Entertainment Weekly columnist cites a few concrete examples for why this season may end with everyone's favorite diagnostician in a loony bin. To wit:
House is seeing dead people (specifically, Wilson's cutthroat bitch of an ex, Amber).
The logline for the May 4 episode readers: "House is willing to do the unthinkable to make his visions stop."
Last week, the show shot scenes for next season at New Jersey's abandoned Greystone Park Psychiatric Hospital.
Sources say something happens in the season finale that is so shocking cast and crew were forced to sign confidentiality agreements. 
What do you think, readers? Do these clues make it inevitable that House is headed for a nuthouse before the season is through?
Matt Richenthal is the Editor in Chief of TV Fanatic. Follow him on Twitter and on Google+.