During the third season of Two and a Half Men quite a lot happened. Alan ended up dating Charlie's beautiful ex-girlfriend, Kandi, and even marrying her by the end of the season.
Meanwhile, super bachelor Charlie ended up proposing to the beautiful Mia, only to back out when she wanted Alan and Jake to moveout. 
Oh plus such hilarious things as Berta crashing at the guys' place for a bit, Rose trying to turn her boyfriend into Charlie 2, and Jake attending his first boy-girl party.
The season and its ridiculous set-ups of course led to some hilarious Two and a Half Men quotes.  Here's some of our favorites:
Charlie: Oh, for the good old days when you could pretend you were blind and wander into the girls' locker room.
Alan: You actually did that? That's terrible.
Charlie: No, taking the dog from the blind guy was terrible. | permalink
Alan: You mind looking after Jake while I'm gone?
Charlie: If it will help you get outta here, I'd breast feed him for you | permalink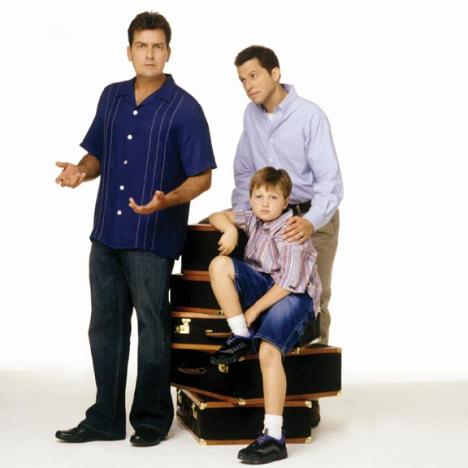 Sandy: Who has room for another eclair?
Alan: Not unless I unbutton my pants.
Charlie: My pants are already unbuttoned.
Jake: I took mine off when she brought the marshmallow yams | permalink
Alan: Sorry I'm late, Kandi and I had morning sex.
Charlie: Good for you.
Alan: Twice.
Charlie: Congratulations.
Alan: She didn't even wake me up for the first one. I almost missed it.
Charlie: Well I've always said a 22-year-old girl is like a good carpenter, no wood gets wasted | permalink
Judith [on Jake's lack of hobbies]: I don't know about his father, but I've tried to share some of my interests with him.
Alan: Unfortunately, he's a little young to drink in the dark and bitch about men | permalink
Charlie: By the way, did you have the talk with him?
Alan: Well sure, I mean, well we've had a talk, you know, covered the basics. He knows where babies come from and how they got there.
Charlie: That's all? He's going to this party completely clueless about how much fun he can have between "Hi, how are you" and "What do you mean you missed your period. | permalink
Eric Hochberger is the programmer of TV Fanatic, so please forgive his mediocre writing. His programming is far better. Follow him on Twitter and/or email him. Just don't request threaded comments. They're coming.