Enjoy this week while you can, As the World Turns followers. Next week will feature a series of sad events.
On May 20, Trent Dawson's Henry Coleman, and his girlfriend, Vienna will lose the baby they've been expecting. As a result, a devastated Henry blames the tragedy on his BFF, Katie.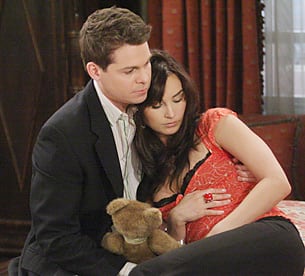 It's a messy situation, reports TV Guide Magazine:
As viewers know, Vienna volunteered to be a surrogate mother for Katie and her husband Brad; she then hid the fact that the child she's been carrying actually belongs to Henry.
On May 19, Vienna goes to Katie to try to make amends for her deceit... but Katie wants none of it, running away, which leads to Vienna chasing her, falling and having the miscarriage.
"We always hurt the ones we love most, so things get pretty ugly between Henry and Katie - he spews a lot of bile at her," Dawson said. "He's forgiven her for a lot over the nine years of their friendship, but he can't forgive this."
Matt Richenthal is the Editor in Chief of TV Fanatic. Follow him on Twitter and on Google+.