As always, New York Magazine has provided its uniquely insightful, and completely random thoughts on last night's Gossip Girl. With points awarded and deducted as it sees fit.
Check out some excerpts, then comment and add your own ...
"You're famous because you got arrested," Blair Waldorf says to Serena van der Woodsen. "Of course this happened to YOU." She is so jealous. Plus 1.
Jenny's graduation outfit is just ridiculous ... she looks like a slutty Fry Guy. Minus 2.
Cyrus and Eleanor's awkward matchmaking maneuvers are spot-on. Plus 1.
What kind of parent, even Rufus, would try to force their kid to go to a debaucherous graduation party, a.k.a. a universally known date-rape circus? Minus 2.
Of course Nelly Yuki is too drunk too early at the graduation party. Plus 2. And of course she's in love from afar with Dan, who's just as dorky as her. Plus 2.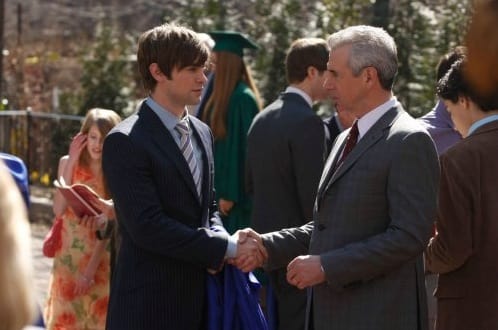 Nate's powerful grandfather took his grandson's "I was a male whore" confession awfully well. Too well, in fact ... especially the part where he goes: "Go on," when Nate is telling him the juicy details. Minus 3.
Finally, at least one professor got a text from Gossip Girl. Plus 2.
How come it never occurred to anyone that Gossip Girl could be someone younger who is obsessed with them? Doesn't that make more sense? Minus 1.
We love that Rufus and Lily immediately commence eating when stoned. Plus 3. And he proposes with a concert bracelet, which feels so right. Plus 3.
How come no one's phone is ever on vibrate?? Minus 3.
Blair calls NYU a "glorified state school." Plus 1.
Chuck graduated in hues of orange, not purple. Minus 2.
As queen, Jenny abolishes headbands! Hooray! Plus 3.

Steve Marsi is the Managing Editor of TV Fanatic. Follow him on Google+ or email him here.