Here's a little Gossip Girl spoiler from Michael Ausiello at EW today that most of you will probably be excited to hear. With just four days to go until the finale, what do we have to look forward to? Well, use your imagination based on the excerpt below ...
Q: Could you please, please give us some juicy scoop on the upcoming Gossip Girl finale? It would really make my day.
A: One of the cliffhangers involves Georgina ... and Dan, and another Blair and Chuck. Actually, the latter is less a cliffhanger and more a itisaboutfreakingtime.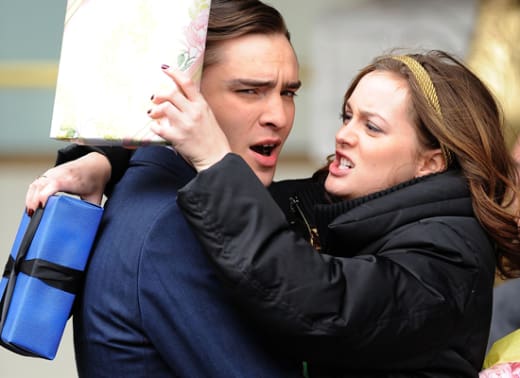 SPECIAL GOSSIP GIRL INSIDER NOTE: Because Josh Schwartz, Stephanie Savage and the folks at the CW / Warner Bros. are so awesome, we received an advance DVD copy of the season finale, "The Goodbye Gossip Girl," this week.
Unlike previous episodes we've watched early, in which the grander Gossip Girl landscape was not altered, this finale is big, and as a result, we won't be recapping it in full at their request. Gotta keep you in suspense a little, right?
However, we will be posting some good spoilers later today! Check back!
Steve Marsi is the Managing Editor of TV Fanatic. Follow him on Google+ or email him here.