We're going to let Ted sum up How I Met Your Mother's fourth season.  "That was the year I got dumped at the altar. The year I got fired. The year I got beaten up by a girl goat. It was the best year of my life."
We're not sure if this season would qualify as our favorite, but it certainly was still a good one!  We have plenty of How I Met Your Mother quotes to prove it.
Here's a sampling of some of our favorite quotes from the season:
Barney: Bimbos make me happy. Bimbos make me feel alive. Bimbos make me want to pretend to be a better man. This whole thing with Robin was just a fling, but at the end of the day, my heart belongs to bimbos | permalink
Ted: The lamb here is supposed to be great.
Nora: I am a vegan. I wish I could tune out that moral voice inside me that says eating animals is murder. But, I guess I'm just not as strong as you are.
Ted: That's 'cause you need protein | permalink
Ted: There aren't any black people in Minnesota?
Marshall: Not if Prince is on tour | permalink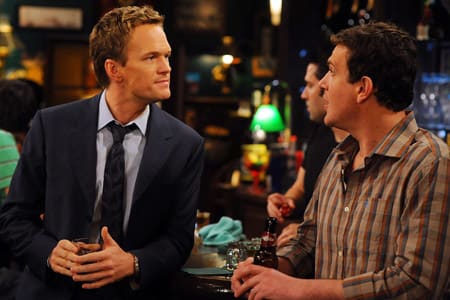 Ted: Can't you just leave the place open a little while longer? We'll keep an eye on things.
Carl: You two? No way, you wouldn't know the first thing about running a bar.
Barney: Serve the hotties first?
Carl: Here's the keys | permalink
Woman: You said that if I slept with you my son would get the part
Barney: Well apparently I'm a better actor than your kid | permalink
Ted: I never said I was gonna get back together with her. But I was thinking, she's new in town, would it be the worst thing in the world if I gave her a call?
Marshall: No, no, Ted, it wouldn't be the worst thing in the world. It would be the fourth worst thing. Number one, supervolcano. Number two, an asteroid hits the earth. Number three, all footage of Evil Knievel is lost. Number four, Ted calls Karen. Number five, Lily gets eaten by a shark.
Lily: I'm Lily and I approve the order of that list. | permalink
Ted: Well after he proposed a vocational paradigm shift, I made an impromptu presentation using a four pronged approached that really brought him to his knees
Barney: Hit him with a chair?
Ted: Yep | permalink
Eric Hochberger is the programmer of TV Fanatic, so please forgive his mediocre writing. His programming is far better. Follow him on Twitter and/or email him. Just don't request threaded comments. They're coming.