Merik Tadros portrays Michael Rivkin on NCIS, the Mossad agent who showed up in bed alongside Ziva last week.
On tonight's episode and next week's sixth season finale of the show, Tony finally gets face time with Rivkin, a showdown Tadros previewed in a recent interview with TV Guide:
TVGuide.com: Do things get intense in these last two episodes?
Tadros: It gets pretty intense, without question. And it was very exciting, because I felt like it shed light on DiNozzo and David in a way that has never before done in the show. It was nice to be a part of that.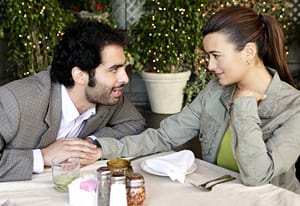 TVGuide.com: At the end of the day, will Rivkin's presence bring Tony and Ziva closer together, or drive them apart?
Tadros: I think that love can hurt and heal. In this case, we'll have opportunity to see both of those things take place. I don't want to say too much, but... I think it will only make their connection stronger, as they learn a lot more about each other.
Visit TV Guide's official site for the full interview with Tadros.
Matt Richenthal is the Editor in Chief of TV Fanatic. Follow him on Twitter and on Google+.