Thank you, Bravo!
Earlier this week, the network aired a Real Housewives of New York City special, taking viewers behind the scenes of its hit series.
Here are a handful of unforgettable quotes from the installment and its handful of unforgettable Housewives:

"What is this McCord-VanKempen? What is that? She's so close to him that they practically walk together as one unit, and yet she retained her name? If they were born as Siamese twins they would look exactly the same way."
– Gloria, Jill Zarin's mom, on Silex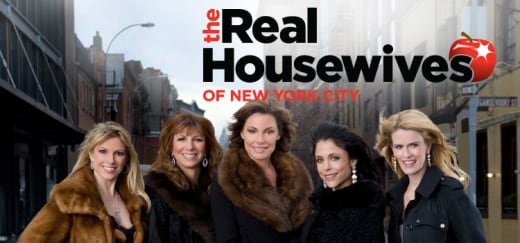 "Wouldn't it be funny if I just took my top off?"
– Bethenny Frankel, hanging with her topless gay friends on Fire Island

"You may look at me and say, 'Oh yeah, she's pretty, she has a good body,' but guess what? My business head? Ten times better than my beauty."
– Ramona Singer, on her business acumen

"In these times when banks are closing and people are freaking out and nobody has any money and people are putting money underneath their mattresses, maybe I can lean down a little bit and donate clothes to people who really need it."
– Kelly Bensimon, on charitable endeavors

"I've never worn anything ugly."
– Kelly, on her wardrobe

"It's not that I'm not comfortable with my body. I walk around my house naked all the time."
– Bethenny, on a second date with a photographer

"If Simon were gay, he would be out and proud and marching and he would have a rainbow flag tattooed on his forehead!"
–Alex McCord, answering viewer questions about her husband
Matt Richenthal is the Editor in Chief of TV Fanatic. Follow him on Twitter and on Google+.