Are you ready to meet Dexter and Rita's new son?!?
The fourth season of this Showtime hit doesn't premiere until September 27, but fans can get a sneak peek at little Harrison in the recently-released, hilarious poster for the upcoming new season. Take a look: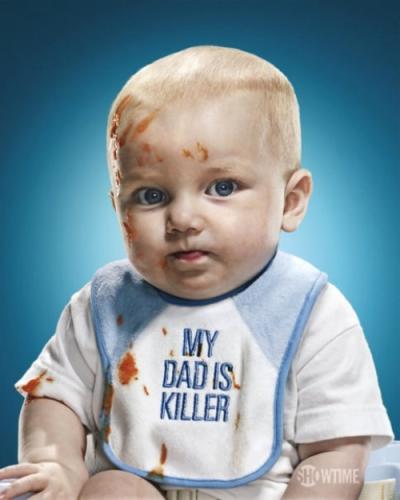 Meanwhile, in an interview with The Los Angeles Times, star Michael C. Hall revealed a couple of tidbits about season four.
"In the first episode we discover that, without revealing it to Rita, he's committed to keeping his apartment. I'm not sure how he pays for it, but we never get into that," the actor said.
As for he and his wife's new residence, Hall added:
"Dexter and Rita have a new home that they're sharing together, with Astor and Cody and Dexter's new baby son, Harrison.  And Dexter hasn't been alleviated. His compulsion remains. I don't know if we'd be able to keep our audience if Dexter woke up one day and said, 'I don't really feel like killing anybody anymore.'"
As previously reported, Dexter's latest obsession will be with a serial killer nicknamed Trinity. He'll be played by John Lithgow.
Matt Richenthal is the Editor in Chief of TV Fanatic. Follow him on Twitter and on Google+.