As a new star on The Young and the Restless, Michael Muhney would be facing a great deal of scrutiny no matter what.
But because he plays an openly gay character, Adam, the actor is under the spotlight more than most daytime television stars.
In an interview with After Elton, Muhney responded to a question about Adam's motivations. He said:
I think primarily what makes him tick is self-preservation, so yes, first and foremost, the initial reasoning for doing anything is "How am I going to get out of this scot-free?" It's like act now, think about it later. He doesn't put his emotions first, he puts his motives first.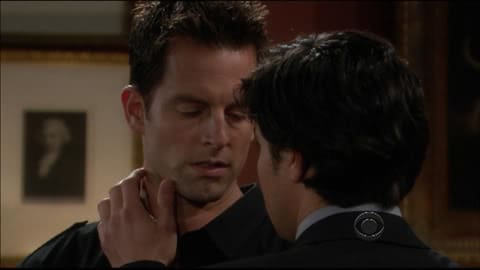 However, upon doing something like that, I feel as though wouldn't anybody question yourself? Even if the answer to yourself is, "No. No I'm not," aren't you going to at least question it?
Einstein said, "There's no such thing as a stupid question, only stupid answers."
He can ask any question he wants, and question that moment as deeply as he might want, and wonder why he did that and why he followed through all the way. Depending on how he can come up with an answer, that's how he's going to be able to handle that situation and digest it and move forward.

I think it would be a natural process to question a situation like that, questioning your sexuality, questioning just how detestable and despicable of a person are you for trying to fool other people into thinking you're someone that you're not. I think if you're not a sociopath, you're gonna question things.
Matt Richenthal is the Editor in Chief of TV Fanatic. Follow him on Twitter and on Google+.