As show spoilers have already alluded to, there is a plan for Brennan and Booth. These two will finally get together at some point, for real this time.
Until that episode arrives, though, viewers will need to settle for this nugget from star Emily Deschanel, as she discussed season five with E! News:
"There absolutely will be more kissing [between Bones and Booth]."
As for the September 17 Bones premiere, which will take place a few weeks after Booth's brain surgery, Deschanel said it will affect her loyal partner:
"Booth's character is kind of confused about our relationship when he wakes up, and that adds a whole new element to our relationship."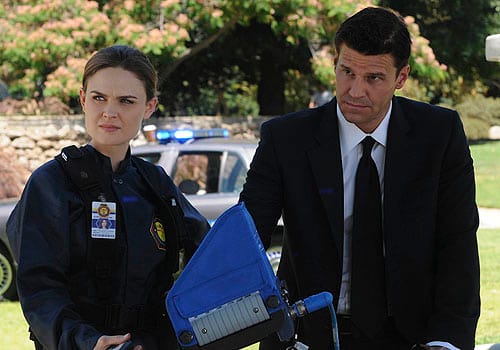 As for what else to expect this season, other stars shared the following:
Booth will still be all about Brennan, sayd David Boreanaz: "I don't care about the crime solving. I just care about my relationship with her. The other stuff just happens. I don't care about the bones and the crime. I care about what they're doing over the crime scene."
The separation between Angela and Hodgins may come to an end, according to Michaela Conlin: "I hear [Jack and Angela] are going to be reconciling soon! Hopefully they're on their way to making it back toward each other."
Check out a slew of series premiere photos now!
Matt Richenthal is the Editor in Chief of TV Fanatic. Follow him on Twitter and on Google+.