Based on a handful of Dexter spoilers, we already know that the show's main character will have his season four hands full with a new baby and a new serial killer in town.
But what about everyone's favorite sergeant, Angel Batista? TV Guide Magazine spoke to David Zayas about what lies ahead for his character:
"They're going to explore a lot of different things with Angel Batista. Work challenges. New romances. It's going to be really interesting for him this season."
Yes, multiple romances, Zayas confirmed. Various reports have actually linked him romantically with Maria Laguerta.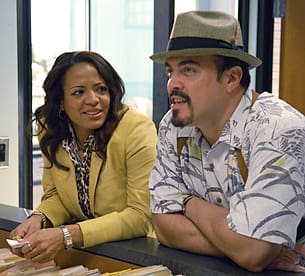 "I think it's the kind of season that just goes full force, straight ahead, everything happening. It's really fun," the actor said. "We have John Lithgow as our guest star this season... I think he brings a lot of class. He brings a lot of great work ethic. I've seen John Lithgow onstage, on television on film and he's just one of the classiest men I've met. He just brings that great energy onto the set."
The action kicks off when Dexter returns to Showtime on September 27.
Matt Richenthal is the Editor in Chief of TV Fanatic. Follow him on Twitter and on Google+.