Season one of Desperate Housewives had the core plotline of uncovering the truth behind the show's narrator, Mary Alice Young's suicide.
However, the season did much more than that, introducing us to the lovely ladies of Wisteria Lane and their various joys and troubles in suburban paradise.
During the first season, Susan fell for a man with a secret life, Lynette had to deal with troublesome twins, Bree was barely able to hold on to her marriage until her husband's death, and Gabrielle had to hide her affair with the gardener.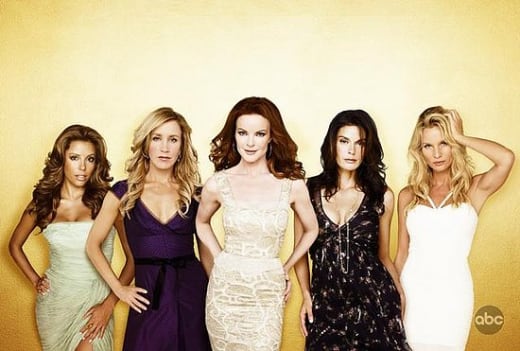 So what's the best way to relive this fantastic season besides rewatching it over and over again?  With classic Desperate Housewives quotes from the epiosdes, of course!
Here's some of our favorites.
Susan: How would you feel if I used your child support payments for plastic surgery?
Julie: You look fine.
Susan: If you could cut back to two meals a day, I could get a chemical peel | permalink
Edie [about her housing burning down]: Oh God, look at all these things, all these beautiful things that my ex-husbands worked so hard for, burnt to a crisp | permalink
Lynette: Seriously, you're taking your kids' medication?
Jordana: Once in a while. Do you want a couple?
Lynette: Oh, that's very kind of you, but I just smoked some crack a little while ago, so I better not mix. | permalink
Gabrielle: I have a problem with you seeing other girls.
John: Well, I have a problem with you having a husband. I guess we'll both have to learn to deal | permalink
George: It was nice talking with you, Dr. Van de Kamp.
Rex: Please, you're dating my wife! Call me Rex! | permalink
John: What about me? Can't I be your plan B?
Gabrielle: Damn it, John. What is our new rule?
John: Stop pretending we have a future.
Gabrielle: Thank you | permalink
Cyrus: Ms. Britt, you look extra beautiful today.
Edie: Oh, Cyrus, you're so sweet.
Cyrus: So anyhow, I was wondering if maybe I could, uh, take you out to dinner sometime.
Edie: Oh honey... you are so far out of your league that you are playing a completely different sport | permalink
Eric Hochberger is the programmer of TV Fanatic, so please forgive his mediocre writing. His programming is far better. Follow him on Twitter and/or email him. Just don't request threaded comments. They're coming.