Michael Ausiello of Entertainment Weekly has some good quotes from Grey's Anatomy executive producer Krista Vernoff in his spoiler Q&A this morning, shedding some light on what's to come from the show's signature couple since day one, Meredith and Derek.
Here's what Michael and Krista have to say in response to a fan inquiry ...
Q: Grey's Anatomy fans are buzzing about a possible Derek and Meredith break-up this season. Please tell me it isn't true.
A: It isn't true. Here's what is true: The Mer-Der relationship, as we could have expected, will be written a little lighter during the first half of the season as a result of Ellen Pompeo's pregnancy and subsequent maternity leave in real life, which will limit her work.
"I think we would be irresponsible writers if we didn't give a woman who's seven-months pregnant a little less time on her feet," says exec producer Krista Vernoff.
"She's waddling around seven-months pregnant about to push a baby out of herself. We have a responsibility to alleviate [Ellen Pompeo's] screen time a little bit."
That said, Vernoff insists Mer-Der are at no risk of losing their title as Seattle Grace's reigning super couple, promising fans that: "It would be false to say that Mer and Der are no longer the focus of the series. Derek and Mer will always be a focus of the series."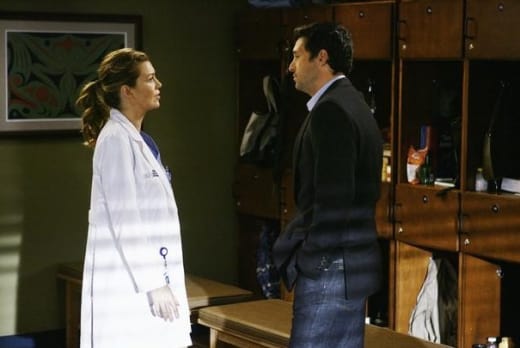 Steve Marsi is the Managing Editor of TV Fanatic. Follow him on Google+ or email him here.