When Claire heads to college this season on Heroes, she may pack on the dreaded "freshman 15" and she may attend a few frat parties.
But the Internet is buzzing with rumors that she'll also experience another cliche from one's first year away at school: the lesbian kiss.
Based on various quotes and spoilers, some critics are reporting that Claire and her roommate will grow exceptionally close when the series returns this fall.
Hayden Panettiere won't confirm nor deny this possibility, but she will say that Claire finds a good friend Madeline Zima's character.
"We're six episodes now into the season, and it's just she develops this friendship with this other girl, this roommate of hers," Panettiere told Sci-Fi Wire last week. "It's the only confidante she's had since the first season, so it's a great relationship, and I think people are going to really like it and enjoy it. But it's normal life."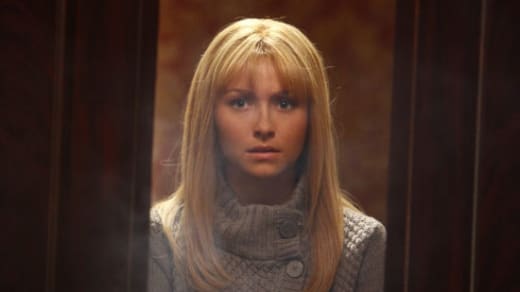 While she says she has "no idea" about the direction of season four, the actress assumes that Claire's new, normal life won't last long.
"She says, 'I've been chasing normal life, and I finally found it. I finally caught it,'" Hayden said of her character. "How long that lasts, I don't know."
Heroes returns on September 21. It will air at 8 p.m. this fall.
Matt Richenthal is the Editor in Chief of TV Fanatic. Follow him on Twitter and on Google+.