As if Curb Your Enthusiasm quotes weren't classically neurotic enough, just imagine what they'll be with Jerry, George, Elaine and Kramer guest starring.
The Seinfeld foursome - also known as Jerry Seinfeld, Jason Alexander, Julia Louis-Dreyfus and Michael Richards – are coming to Curb Your Enthusiasm, which stars Seinfeld co-creator Larry David and kicks off its new season September 20.
How was it slipping back into character for the cast of the NBC comedy that ended its run back in 1998 after becoming one of the most successful shows in history?
"I said to Jerry and Julia, 'I don't know if I can be George. I just haven't tried him on in a while,'" Alexander said. "And it was freaky how it came right back out."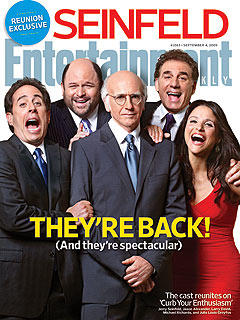 Michael Richards found the Curb / Seinfeld reunion pretty easy, too:
"I always kept Kramer's shoes," the zany actor said. "And once I got those shoes back on, and I'm standing behind the door of Jerry's apartment, I was ready."
One thing that's missing, however? The front door.
No, seriously. The original Seinfeld set is kept in a warehouse – including the backdrops for Jerry's apartment and Monk's coffee shop – but the front door to the "apartment" is no longer there. Jerry Seinfeld took it home as a souvenir.
Steve Marsi is the Managing Editor of TV Fanatic. Follow him on Google+ or email him here.