Earlier today, The Vampire Diaries took its turn at the microphone during the annual TV Critics Press Tour.
Here's a summation of how various cast and crew members answered a wide range of questions from the media...
Katerina Graham (Bonnie), on the allure of vampires: "There's something about a man who lurks in the dark."
Producer Kevin Williamson, on the scope of the series: "[It's] not just a high school show. It's a small town show. Once you get past the vampire premise, we get to telling the story about this town."
Williamson, on comparisons to other blood-sucking stories: "The pilot is tough because there are a lot of similarities to Twilight. There was no way around it. But we're switching things around as we get [deeper] into it. We're not a movie with a beginning, middle and end. We're a TV series that evolves."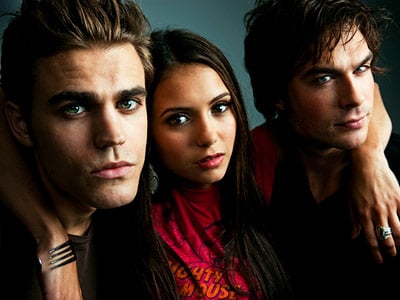 Williamson also confirmed that Ian Somerhalder - who may pop up on Lost this season - will be "in every single episode. He's the devil. He just comes to town and makes everyone's life hell."
The Vampire Diaries will premiere on September 10.
Matt Richenthal is the Editor in Chief of TV Fanatic. Follow him on Twitter and on Google+.