Welcome to this edition of the 90210 Round Table!
Every week, our staff discusses a slate of questions related to the latest episode, as we encourage readers to join in the lively debate regarding the latest developments. Let's take a closer look now at "To New Beginnings," the season two premiere.
Topics for this edition include new hairstyles, a new Annie, Navid vs. Teddy and more...
Whose new hairstyle do you prefer: Adrianna or Silver?
BrendaLova: Silver. Did Jessica Stroup also put a few pounds on her previously skeletal frame? She looked great!
The Real McKay: Adrianna. The long hair suits her new, carefree attitude. Moreover, she doesn't need to worry about putting it up when she has sex with Navid.
Wild4Wilds: How about option C, Dixon. I dig the slightly grown out afro. Let's hope he keeps it going!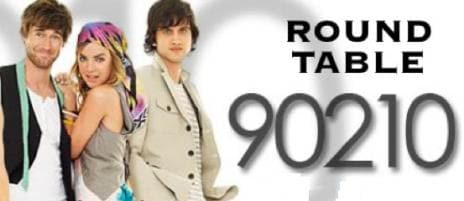 Do you like the new, darker Annie?
BrendaLova: No. But isn't that the idea? She was too sweet, too perfect last season. The show needs more mysterious, dangerous characters.
The Real McKay: I like the direction of her character, definitely. But, I'm sorry, Shenae Grimes has to take many hours of acting classes. She looked more constipated than distressed.
Wild4Wilds: Yes, very much. I'm really curious to see where they go with this hit-and-run angle. Will Annie actually get away with killing someone?
Does Navid stand any chance against Teddy?
BrendaLova: Totally. That new student is like 67 years old. He'll become senile soon enough and Adrianna will lose interest.
The Real McKay: No way. Have you seen Trevor Donovan shirtless?!? Sorry, Navid. There are other women out there for you.
Wild4Wilds: Yes. Adrianna has dated (and slept with) her share of hot studs. She'll soon realize that kindness and humor go a long way. Those are Navid's specialties!
Who will get back together first: Dixon and Silver, or Liam and Naomi?
BrendaLova: Liam and Naomi. Sorry, Dilver lovers, but we already know that Dixon is getting a new love interest.
The Real McKay: Dixon and Silver, only because Liam and Naomi won't be officially "back together" any time soon. Banging in the janitor's closet? Sure. But not boyfriend and girlfriend.
Wild4Wilds: Neither. Dixon and Silver need a nice, long break from each other. They got back together and broke up within about 90 seconds last night! Meanwhile, Liam has a lot to take care of at home before he worries a lick about his dating life.
Matt Richenthal is the Editor in Chief of TV Fanatic. Follow him on Twitter and on Google+.