With the third season premiere of Private Practice just three weeks away, more details of the much-anticipated, drama-packed episode are coming to light.
Here's a new wrinkle, courtesy of EW: There's a flashback.
The Season 3 premiere "flashes back to Oceanside's pre-Addison days to show how Pete, Violet and the gang first met." According to reports, the show uses an editing technique to transition between past and present that is both original and effective.
The episode also features a funeral, two harrowing surgeries, and the revelation that we are going to be seeing less of Dell on Private Practice this season.
Chris Lowell's episode order was reduced from 22 to a minimum of 13, because the hunky young actor wanted more freedom to pursue other projects.
No word on how the show plans on transitioning Chris Lowell out, or at least to the back burner, but try not to be too crushed by this news, ladies.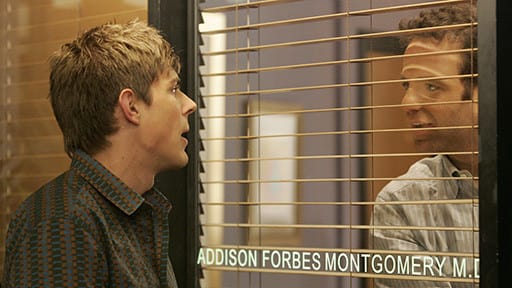 Steve Marsi is the Managing Editor of TV Fanatic. Follow him on Google+ or email him here.