Following this week's episode of The Vampire Diaries, we can't say enough good things about Ian Somerhalder as Damon.
That will be evident below, as our staff gathers for its weekly Round Table discussion of the series. What did we like best about "Night of the Comet?" Where does it all go from here? Let's get right to it...
Will Ian Somerhalder win an Emmy Award?
VDLover: Haha, it may be early to ask that question, but I was blown away by his performance this week. He makes Damon creepy, funny and intense, all at once. Not an easy balance to achieve.
DoMeDamon: Somerhalder really does walk a fine, perfect line in his portrayal. If he were too light-hearted, no one could take his evil side seriously; if he were full of rage at all times, it would take away from the times when he really goes off (like with Caroline at the end of the episode). Somerhalder absolutely steals every scene he's in.
ElenaLova: It's almost hard to believe this is the same guy that played Boone on Lost. He was fine on that show and all, but the role required very little of him. On The Vampire Diaries, Damon can go from sarcastic to mean-spirited over the course of one line of dialogue. It's been very well done so far.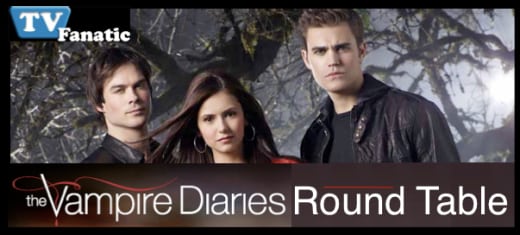 The use of diary entries: Cheesy or romantic?
VDLover: Remember: the series is based on a series of books. Elena and Stefan write in journals in the novels, so the show must remain loyal to that on screen.
DoMeDamon: It's cheesy. I know what the show is titled, and I know it uses these diary entries because L.J. Smith did so in her books. But I cringe a bit every time I hear the words "Dear Diary..." I hope this narration decreases as the show goes on.
ElenaLova: I thought it was cheesy, but then used well to conclude the latest episode. It was nice to see Elena realize that she has to stop writing everything down and start actually living her life.
What will happen to Caroline?
VDLover: She's basically Damon's slave now. She may not be conscious of it, but following that bite, she'll do whatever he asks of her for the foreseeable future.
DoMeDamon: I don't know, but I hope it happens to me soon! Sure, Damon took a chunk from Caroline's neck... but he also seemed to be a generous lover, if you know what I mean!
ElenaLova: Like Vicki, I'm guessing she'll become Damon's play thing. He'll control her thoughts when he chooses to and use his glamour-ing powers to threaten Stefan.
What was your favorite song from the episode/
VDLover: "Closer to Love" by Mat Kearney.
DoMeDamon: "I'm An Animal" by Neko Case.
ElenaLova: "Gravity" by Sara Bareilles.
Matt Richenthal is the Editor in Chief of TV Fanatic. Follow him on Twitter and on Google+.