It's hard to believe that Two and a Half Men began its seventh season last night.  The show has had some great episodes over the years and we've gone ahead and put in quotes from the fourth season.
The fourth season met up with Alan shortly after his much expected divorce from Kandi and ended with the boys falling in love with their new potential dad that Evelyn might marry.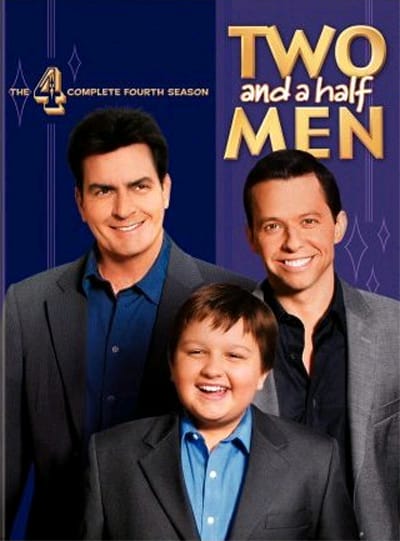 Relive the episode through some of our favorite Two and a Half Men quotes from the episode.
Alan: Since when do you have a wet suit?
Charlie: Since I moved to the beach and noticed it was full of hot surfer chicks. If I lived next to Jellystone Park I'd have a bear suit and a picnic basket | permalink
Berta: You still have to go?
Charlie: Well, yeah, it doesn't evaporate. Can't we pull over for a minute?
Berta: In this neighborhood, in a Mercedes? Sure, if you're partial to car theft and sodomy | permalink
Charlie: You didn't have to go to the bathroom! You were just trying to stick me with the check!
Alan: Oh, oh, I see, so you know my bowels better than I do!
Charlie: I will when I pull them out through your nostrils. | permalink
Herb: I'm a doctor!
Kandi: A real one, or like Alan?
Herb: I'm a pediatrician.
Kandi: Wow, so you're into feet.
Herb: No, children.
Kandi: Isn't that illegal? | permalink
Rose: Oh, I almost forgot. I thought you should have this. It's our first restraining order. Look how shaky your signature was. You were so spooked | permalink
Alan: Let's face it, we're both too old for the MTV-lifestyle.
Charlie: MTV? Did they just defrost you?! | permalink
Dr. Prajneep: The good news is that you are a perfectly healthy 50-year-old man.
Charlie: I'm only 40!
Dr. Prajneep: Tell that to your liver | permalink
Alan: Did you get the divorce papers?
Kandi: Not really, my lawyer had to explain them to me | permalink
Teddy: Charlie, when you get to be my age most of your friends are either married or dead.
Charlie: What's the difference?
Teddy: The dead ones smell up my plane | permalink
Eric Hochberger is the programmer of TV Fanatic, so please forgive his mediocre writing. His programming is far better. Follow him on Twitter and/or email him. Just don't request threaded comments. They're coming.