With the death of George O'Malley greeting Grey's Anatomy fans at the beginning of this season, Seattle Grace has experienced a void ... or should we say a vacancy?
Thanks to the merger, however, new residents will be abundant soon enough.
And, as we reported yesterday, Kim Raver will is the latest to join the crowded ranks, playing a surgeon and possible love interest for Dr. Owen Hunt (Kevin McKidd).
Raver's prior credits include 24, Third Watch and most recently Lipstick Jungle, which was canceled after 20 episodes, yet had a surprisingly vocal cult following.
The addition of a known actor like Raver could be seen as a concerted effort to bolster the show's audience, which has shrunk over the last few seasons.
After peaking in Season 3 with an average of 21.3 million viewers per episode, ratings for Grey's Anatomy have tapered off somewhat and now hover in the 13-15 million range (typically depending on who is about to die), though it remains a top 10 show.
** INSIDER NOTE: This website's highest-ever traffic came after the cliffhangers that seemingly left Meredith dead in Season 3, and George and Izzie in peril last May.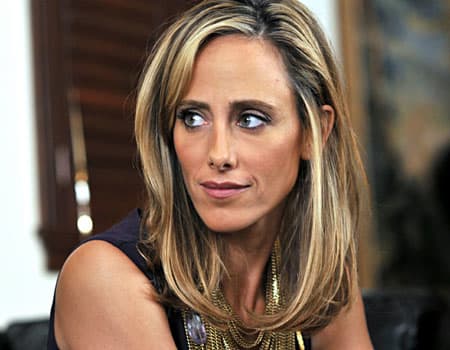 It's likely, however, that Raver won't have much screen time with two of the show's biggest leading ladies, as this move is probably also meant to counter the reality that Ellen Pompeo and Katherine Heigl will both be missing a decent chunk of time this season.
With those two literally out of the picture, Raver's task will be to continue the show's tradition of strong female leads ... for better or worse, depending if you like her.
The Raver casting also comes on the heels of the news that Greek star Jesse Williams and veteran actress Martha Plimpton will join the cast for multi-episode arcs.
Is Grey's Anatomy having a resurgence in its sixth season, or are these just preventive measures to try and keep more viewers from being tempted by other shows?
Given the intriguing Owen-Cristina love triangle storyline, will Raver's surgeon serve as an antidote for a show that might be suffering from some character fatigue?
What do you think? Is Grey's Anatomy hitting its stride again? Or are there just too many guest stars and too little time for the regulars we've grown to love?
Steve Marsi is the Managing Editor of TV Fanatic. Follow him on Google+ or email him here.