FlashForward traveled to D.C. this week, taking an assortment of developments and questions with it.
While the episode focused mainly on Mark's hazy vision and Stan's shady relationship with various players in the nation's capital, it still managed to create new mysteries all around.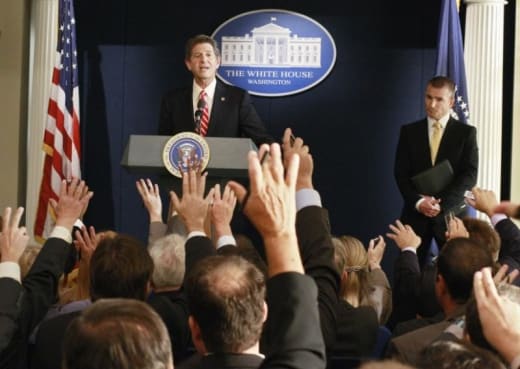 A few hours, and a good night's sleep, behind us since "Gimme Some Truth" aired, these are the questions foremost on our minds:
Will the President be dead by the time April 29, 2010 rolls around?
Who sent that text message to Olivia?
Is Janis really a goner?
Why doesn't Demetri go hide out in a cabin, with a gun aimed at the door on March 15, for the next few months?
Is Aaron supposed to have an accent or not?!?
Will Olivia confront Mark about his drinking?
Have any answers, or theories, regarding these issues? We'd love to hear them!
You can also take a quick look at next week's episode, "Scary Monsters and Super Creeps," right now!
Matt Richenthal is the Editor in Chief of TV Fanatic. Follow him on Twitter and on Google+.