Friday Night Lights Producer Sheds Light on Season Four
Matt Richenthal at .
When Friday Night Lights returns on October 28, viewers will meet a slew of new character, led by Michael Jordan's Vince.
But what about the old favorites fans have grown attached to? Producer Jason Katims spoke to E! News about a couple of big returns; and one possibly troubled marriage:
On the return of Tim Riggins: One of the things we've always talked about for Tim is he might be a guy who winds up in Dillon for life but not necessarily in a sad way or tragic way. That's one of the notions that I've always liked, was the idea that maybe at the end of the show he might be one of the few people who end up in Dillon, but not in the way that "He never got out of the small town," but more in a way that "He loves that town and wants to embrace it." That's partly the direction we're going in.
On the return of Lyla: She comes back for at least two episodes this year, so far, visiting from college. We will watch as she and Tim sort of rekindle their relationship and try to figure out what to do about that. The two of them have, in one way, really moved on, but once they see each other, they maybe realize it's not so easy to move on.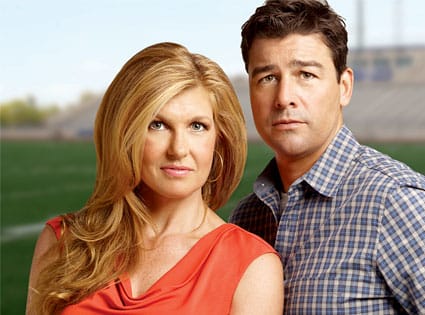 On the East Dillon Lions: We will absolutely see them play football, they might not play quite as well as the Panthers, but we will see them play. We will follow their season; that will be the show this year.
On Tami and Eric: The [town] split definitely creates some tense moments between them. The thing that I love so much about Coach and Tami, as they've been realized by Kyle and Connie, is what a beautiful relationship they have and how well they overcome obstacles. What's fun for us as writers is try to throw as many things at them to watch them emerge with their marriage intact.
We try to find new things to throw at them. We knew Coach was moving to this new school, so we decided to keep Tami at West Dillon and to have that be a story point throughout the season for these two people who are in these two very different worlds now and at certain times those worlds very directly collide.
Check out the first pair of Friday Night Lights season four promos NOW!
Matt Richenthal is the Editor in Chief of TV Fanatic. Follow him on Twitter and on Google+.