Glee threw a whole lot at viewers this week, in a short period of time.
Sue was happy... and then meaner than ever.
Rachel and Puck dated... for about 20 minutes.
Finn stood up for the glee club, quit the glee club and rejoined the glee club... all within the hour.
Our only complaint about the show is that it's go-to storyline each episode is that someone might drop out of the club. We're pretty sure Rachel has left and returned more often than she's had a slushee thrown in her face.
Still, the songs, characters and one-liners always make each installment more entertaining than anything on TV. Read a detailed recap of "Mash-Up" now to see what went down this week.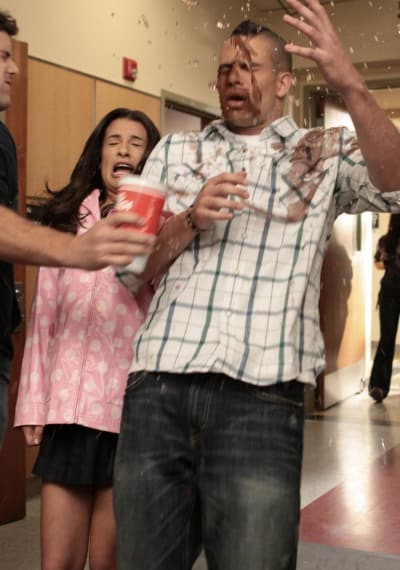 Our favorite moments from the episode included:
Kurt slushee-ing himself. What a friend!
Will's dance to the Thong Song. Purchase any of this week's singles in our Glee music section!
Sue in a zoot suit. Amazing.
The absence of Terri Schuester (no offense, Jessalyn Gilsig).
What did you like best this week? Catch up on the top Glee quotes below:
Finn: I don't think any one decision makes your life. Unless you invent some sort of zombie virus or something. | permalink
Puck: Know what the worst part is? It's not the burning in your eyes or how the slushee drips into your underpants. It's the humiliation. | permalink
Sue: You sunk my battleship, Rod. And you sunk it hard. | permalink
Rachel: Your arms are lovely. But I just don't see us working out. | permalink
Matt Richenthal is the Editor in Chief of TV Fanatic. Follow him on Twitter and on Google+.