According to TV Guide Magazine, the set of Grey's Anatomy is becoming quite the family atmosphere. To a point, this goes without saying, given all the recent baby news.
However, producers are reportedly constructing an on-set nursery to accommodate Ellen Pompeo's 6-week-old Stella, Katherine Heigl's 1-year-old adopted Naleigh, Chyler Leigh's 6-month-old  Anniston, and the baby Eric Dane is expecting with wife Rebecca Gayheart.
All those bundles sure make for a happy Grey's Anatomy set.
After the past few years, that sure is a nice thing to hear!
"Ellen is absolutely loving life as a mom and Katie just came back on set with Naleigh, who is absolutely beautiful and precious!," reports her on-screen sister, Chyler Leigh.
"The babies haven't met yet, but I've heard talks of a nursery coming. For now our trailers have been converted into baby havens. I have been passing on my experience."
Leigh, while only 27, now has three kids with hubby Nathan West. The recent arrivals were the first for Pompeo and Heigl, and Eric Dane will be welcoming his first as well.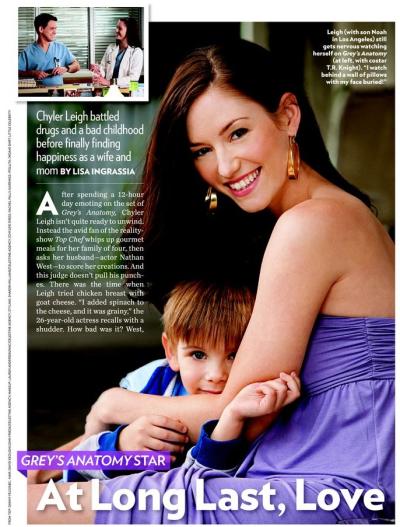 Grey's Anatomy star Chyler Leigh with adorable son Noah.
But what about plans for the stork to pay a visit to Seattle Grace Mercy West Hospital? Show creator Shonda Rhimes says, disappointingly, "We don't do babies on Grey's."
Aww. Does that really mean no McBaby? Ever?
"I assume Derek wants to be a dad at some point," says Rhimes, clarifying that Meredith, on the other hand, is probably "not too into babies." Well, just give it time, right?
In the meantime, what about a mini-Calzona?
Jessica Capshaw, who plays Dr. Arizona Robbins and is the real-life mother of Luke, 2, says, "In my character research, I found a lot of real life pediatric doctors don't want to have their own children because everyday they see all the horrible things that could happen."
So maybe not. At least not for awhile.
We can also rule out former cast-member T.R. Knight (George), 36, who just broke things off with his boyfriend, Mark Cornelson, just weeks after the kid was legally able to toast his 21st birthday. Someone pass poor Mark a pacifier of his own!
Steve Marsi is the Managing Editor of TV Fanatic. Follow him on Google+ or email him here.