While Fox promised one of the strangest cases in House history this week, we're pretty much numb to any professional surprises on the show at this point.
But the pair of personal storylines that lingered last night were intriguing.
First, Jesse Spencer is going an outstanding job with Chase's Dibala dilemma. We do hope his character reveals the secret to Cameron on the next episode, however, as he's clearly so far over the line that it's not realistic for it to remain kept from her.
It's also interesting to see how this will lead to Jennifer Morrison's exit from the series. Will she simply leave her husband when she learns what he did?
Read a full recap of events from "Brave Heart" now.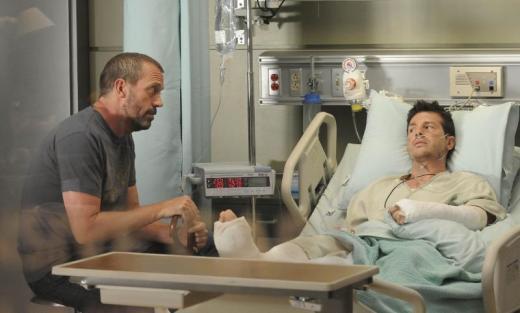 As for House, we could watch him interact with Wilson for hours.
For the first time in years, the character is clearly evolving, as he may still be snarky and even mean at times - but he's not miserable. That much is certain, and it's a pleasure to watch Hugh Laurie find a new take on the man he's played for so long.
Check out a few of our favorite House quotes from the episode below:
Cuddy: This is the part where you play the employee and I play the boss.
House: I can see your nipples. Your turn. | permalink
House: Differential diagnosis for resurrection. Go! | permalink
Foreman: You can't perform an autopsy without a medical license.
House: Really? Because I don't think there's anything we could screw up that we haven't already screwed up. | permalink
Chase: I've crossed some line and I'm having trouble getting back to the other side. | permalink
Matt Richenthal is the Editor in Chief of TV Fanatic. Follow him on Twitter and on Google+.