Katey Sagal has come a long way since Married... with Children.
The actress has become a dramatic stalwart, appearing in various episodes of Lost (as Locke's troubled ex, Helen) and as the matriarch of SAMCRO on Sons of Anarchy.
While the star doesn't reveal any major spoilers in a new interview, she does open up about her character's loyalty, singing voice, and of course, this season's traumatic rape scene.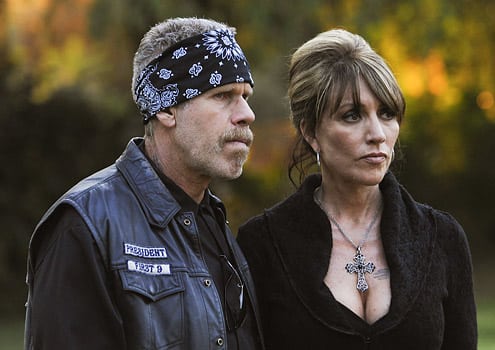 A few excerpts from the interview:
On allegiances to Jax and Clay: Her allegiance is to everybody.  I mean, what she's desperately fighting for, in my opinion, is to protect the whole system.  This is her life, the whole thing... I would imagine if she really had to choose... I would say her son.
On personal repercussions from the rape scene: It hung around for most of the season with Gemma, but the really super dark, emotional visits I had to take, I would say, it was a good month.  Not that I was walking around with it every moment of the day. 
On singing for the show: I've sang two songs in the soundtrack of the show.  The first season, I sang Son of a Preacher Man.  And in this season, I'm the one singing Ruby Tuesday over the second episode. Hopefully I'll get to sing one for the third season, too.
Matt Richenthal is the Editor in Chief of TV Fanatic. Follow him on Twitter and on Google+.