One major problem we've had so far on FlashForward is the one-dimensional characters on the show.
Joseph Fiennes' Mark Benford is incredibly stuff; Courtney B. Vance's Stan Wedeck is over-the-top and not believable as a boss.
But we've loved Sonya Walger's portrayal of Olivia Benford from the beginning, as the talented actress actually makes us feel Olivia's pain as she struggles with the possibility that she'll have an affair with Lloyd Simcoe.
In an interview with Zap2It this week, Walger gets us excited for tonight's episode, which delves deeply into her vision and storyline. She says:
"It's a big episode. It's one where an awful lot of what she's been battling against really comes to a head."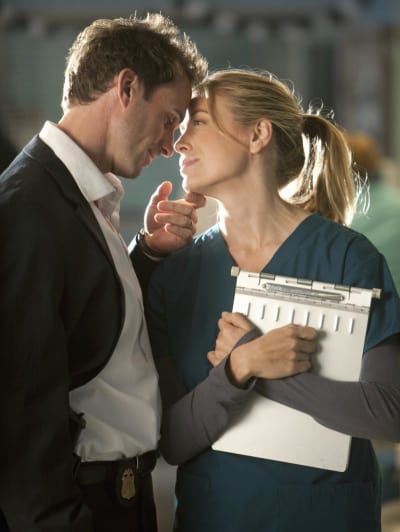 Other excerpts from the article:
On playing a character that has seen her future: I feel like there's an enormous amount of fierce determination not to let the flash-forwards happen. I actually think Olivia's not that confused - I think she's just stubborn. She's not even countenancing the alternative. I think in episode four, she had to really face losing [a patient's] life or giving up her -- what would be the word? - her loyalty to Mark and everything ... she chose his life, but that was only when the odds became that extreme.
On a confrontation with Mark: I think Olivia is justifiably outraged that she's being punished for a crime she hasn't committed, and all the time, Mark has had this information about his flash-forward that he hasn't shared with her. I think the inequity of that is justifiably really irritating to her.
Every week, our staff recaps and reviews the latest FlashForward episode. Come back tomorrow morning and see what we have to say on "Scary Monsters and Super Creeps."
Matt Richenthal is the Editor in Chief of TV Fanatic. Follow him on Twitter and on Google+.