Season two of True Blood ended with a marriage proposal, an acceptance... and the immediate disappearance of the groom-to-be.
So, what happened to Bill Compton? It won't take viewers long to find out, creator Alan Ball told TV Guide.
"We will discover who has Bill right off the bat in Season 3, but it's going to take the people on the show a little bit longer to find out," he said.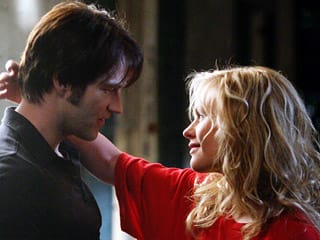 Might Bill have even left on his own? Sookie will ponder that possibility, according to Ball.
"It's not easy for her. She feels really bad because she's not sure whether he just left because he was upset because she didn't say yes right off the bat. But in her heart she believes he was taken and she doesn't know who took him. She's going to fight to find him."
Last week, Ball expanded even more on season three, teasing fans with the possibilities of werewolves and other creatures next year.
Matt Richenthal is the Editor in Chief of TV Fanatic. Follow him on Twitter and on Google+.