Amanda Woodward Returns, Wreaks Havoc: Melrose Review of "Caheunga"
Matt Richenthal at .
When I hired you to give this place a makeover, I didn't mean smear it with lipstick and turn it into a five-dollar hooker.
With those words, followed by the firing of Caleb, Amanda Woodward returned to Melrose Place this week.
To the show's credit, she fit right in, as The CW had clearly been hoping all along that Heather Locklear would be unable to resist the allure of bad dialogue, cleavage-baring dresses and sex-driven intrigue.
As "Caheunga," proved Amanda hasn't lost her ability to manipulate, cajole or look beautiful. But the episode also concluded with a hint that this vixen's life is not nearly as perfect as it seems.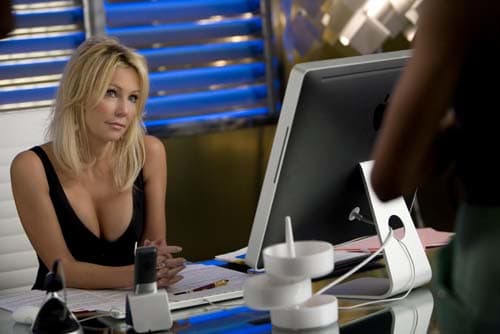 We've updated our Melrose Place music section with singles from this episode.
Not since Bruce Willis in The Sixth Sense has a dead person continued to affect so many lives, long after his/her passing. Sydney didn't just leave a mysterious note for Amanda this week, she also drove Auggie to nearly fall off the wagon. Instead, he was stuck with an even worse fate: a sex scene with Ashlee Simpson's Violet.
While we know what the future holds for those two characters, it's uncertain where the show is going with Lauren and David. She truly does seem to bring the romantic side out of this hustler, but can she reveal to him her secret life as a call girl?
Not yet. Good call there, Lauren.
Riley and Jonah continue to bring the show down, however. It doesn't help that their storylines don't always make sense. Wouldn't Riley have signed a contract stating her $10,000 salary prior to her photo shoot? There's no legal way this payment can be withheld because she refused to go along with a lie weeks after the deal.
Also, what happened to Jenna Dewan's Kendra? Didn't Jonah tell Riley he was gonna continue to work with her? She was hot and she offered the possibility of an actual affair, something dirty the show's boring couple needs in order to make us care about them.
Overall, this was a solid showcase for Amanda and we have high hopes for her future on the show. Do you agree? Were you giddy to see TV's biggest bitch back where she belongs?
Check out a few of our favorite Melrose Place quotes from the hour:
Riley: I am burning all of these.
Jonah: Recycle. It's better for the environment. | permalink
Lauren: We can wait until after dinner to have you arrested. | permalink
Riley: The worst thing would be letting your life pass you on and seeing it take your soulmate with you. | permalink
Auggie: I'm not a murderer. I didn't kill Sydney. | permalink
Riley: This whole night is just one big superficial fantasy. | permalink
Matt Richenthal is the Editor in Chief of TV Fanatic. Follow him on Twitter and on Google+.