In real life, Blake Lively may not be very similar to Upper East Side vixen Serena van der Woodsen. Well, except for her Gossip Girl alter ego's style.
"I dress just like Serena!" Blake admits in the November issue of Nylon magazine. "I own half her wardrobe, so it's far too similar to how I dress!"
"I feel ridiculous at times with her, because I'm, you know, killing someone or marrying someone, but I look like me. I'm like, 'Oh, this is absurd.'"
Having her Gossip Girl fashion mesh so seamlessly with her personal signature style, however, isn't something that happens with most of her roles.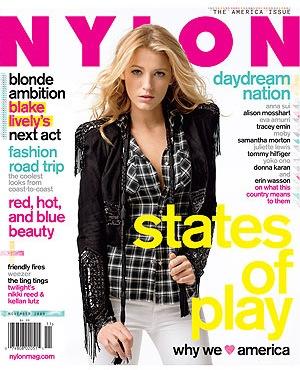 Blake Lively and Serena both look amazing.
"When I'm doing a movie, I hide behind the character's hair or makeup or clothes. If I can transform myself, then people will believe that's who that is," says the 22-year-old Blake. "And I need to believe that's who that is."
One fringe benefit of trying out a persona? Getting in new products that she might not try on herself, including her latest beauty obsession which she picked up on the set of her next movie, The Town: press-on nails.
"They're really amazing," she says.
Steve Marsi is the Managing Editor of TV Fanatic. Follow him on Google+ or email him here.