Stop us if you've heard this before:
As Dexter befriends a like-minded individual, his co-worker's suspicion causes him to follow Dexter around at night, while Dexter accidentally kills an innocent man.
All three of these storylines were in play this week - and all three have been done before on the show. Read through our recap of "Slack Tide" for the specifics.
Due to Michael C. Hall's performance, among other aspects of the Showtime hit, it's always a pleasure to watch Dexter. But never have we felt so much television deja vu as last night.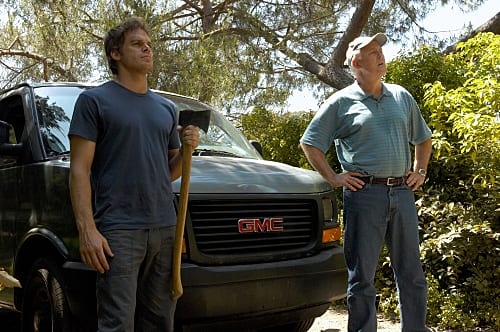 Quinn stalked our favorite mass murderer, just as Doakes did in season two; Dexter continues to play a dangerous game of befriending Trinity, against Harry's wishes, the same scenario that played out last season with Jimmy Smits' Miguel Prago.
Meanwhile, the supposedly shocking conclusion that found Dexter distraught over killing an innocent would have been more effective if he hadn't done the same thing to Miguel's brother last year.
There were different circumstances then, as Oscar Prado was not a target that ended up on Dexter's table. But the guilt and confusion on Dexter's part was very similar.
Unlike his victims, we don't wanna see Dexter die a slow, painful death, taunting the audience with all it used to be. It's one of our favorites dramas ever and there's still a lot of time for it to recover and feel fresh as season four twists and turns.
But this week's episode, like Dexter chopping up Farrow's body, was a step in the wrong direction. Check out our favorite quotes from the installment below:
Dexter: We all have secrets, Deb. Some of them shouldn't be found out. | permalink
Dexter: Two serial killers go for a ride. Why do I get the feeling this joke ends with only one of them coming back? | permalink
Dexter: Dear Abby, I'm a serial killer and I need advice on how to keep my kids from taking over my life. | permalink
Deb: Take a bullet and suddenly you're everyone's best friend. | permalink
Matt Richenthal is the Editor in Chief of TV Fanatic. Follow him on Twitter and on Google+.