Better late than never, right? We know Friday Night Lights airs on Wednesday evenings, but we were unable to get to this review until today.
Still, rather than give up on it entirely, we're following Coach Taylor's advice to the Lions and we're finishing this fight!
Friday Night Lights, perhaps more than any show on television, has always focused on its characters. There have rarely been major, suspenseful storylines (we're gonna pretend like the Landry killing never happened) to drive a season, just an in-depth look at various characters we've grown to love, played by incredible, gifted actors.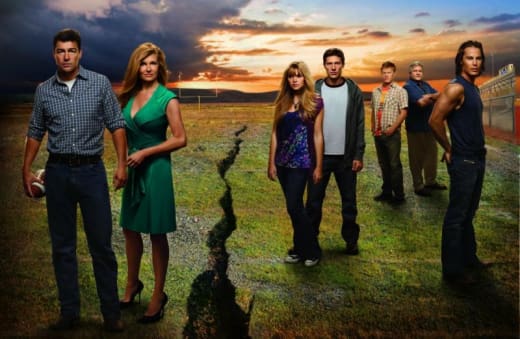 But the East Dillon storyline has given the series something new and exciting: a battlefield. There's clear good versus evil. Even when Buddy was a foil to Eric early in the show's run, there was always a lovable, vulnerable side to the character. But the same can't be said for Joe McCoy and Wade Aikman.
These guys are true antagonists and it's been a pleasure to watch Eric - and Tami! - square off against them so far. We laughed out loud at her ending line about telling them off... and drinking wine.
A smile was also plastered on our face during the brief interaction between Tim and Eric. These two were both so happy to see one another and nothing pleases us more than future scenes of Riggins on the field, helping the Lions, where he belongs.
Also: kudos to the show for slowing integrating news characters. The snippets we got of Luke and Jess this week made us anxious to learn more about them.
Check out our recap of "After the Fall" now and let us know your thoughts on the episode.
Matt Richenthal is the Editor in Chief of TV Fanatic. Follow him on Twitter and on Google+.