After a long playoffs-related break, Fringe returned with its spookiest episode yet.
A shadow from Broyles' past came back to lurk the halls of a Boston hospital, taking its victims in their beds and even following them home. These victims were then turned to dust.
Is the killer a man at all, or something more alien than anything the Fringe team has dealt with? As the team races to stop this latest oddity, Broyles may have stepped on a few too many toes in Washington, putting himself at risk. Read the recap of "Earthling" and then the review below...
 
What We Liked: How It Looked
The shadow man was one of the coolest villains we've seen thus far on Fringe. Whether sneaking through an apartment, a darkened hospital hall or gliding through security footage, this thing was just plain creepy to look at. The little girl's line at the end - coining the "shadow man" phrase - was a perfect end to a spooky character.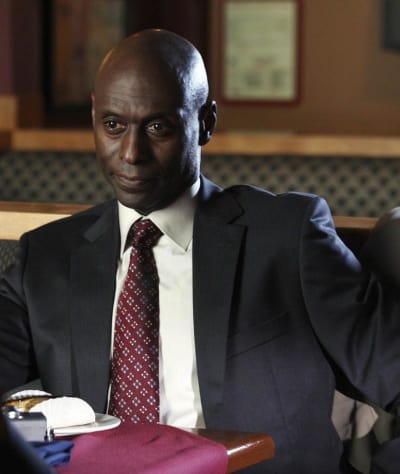 What We Didn't: How It Read
It was a key plot point to have the Koslovs be Russian, but c'mon - couldn't big bro Tomas speak English to his comatose brother? It's not like he could tell the difference, and it would have made for significantly less reading on our part.
What We Really Liked: Walter Making Us Laugh
In addition to being one of the best shows on TV, Fringe is also one of the funniest thanks to Walter's off-the-wall outburst, ideas and antics. The choice ones from this episode included his high-tech method of transporting the turned-to-dust remains of Randy back to the lab (in several Dustbusters) and his offering licorice to Agents Broyles and Dunham when they showed up at the Harvard lab. Both worthy of chuckles, another snack we assume Walter keeps on hand.
What We Really Didn't: Randy Making Us Look Bad
An elaborate hoax to trick your wife into thinking you're away on business on your anniversary, then sneaking home to set up the apartment for a romantic dinner? Way to make all the rest of us dudes look bad, Randy.
What We Really, Really Liked: Learning More About Broyles
The episode began and ended with Agent Broyles, the one main Fringe character we know the least about. We were shown his softer side tonight, seeing him play along with the copycat child in the restaurant at the beginning of the episode, and his touching moment with his ex-wife at the end, telling her that he finally solved the case that cost him his marriage four years earlier. He also reveals that he joined Fringe for the sole purpose of making the world safer for his family, and he continues to do so even though his work has cost him said family.
What We Really, Really Didn't: Learning Nothing Else
Okay, Fringe will get a pass on this one since it was such a good episode, but it was still a contained episode for much of the time. We were given nothing about William Bell, the alternate universe or anything Pattern-related. The main issue with Fringe in the first season is that early on, it was a bit scattered - a series of one-off episodes that rarely built to the overall story. The show has really been on course this season and tonight's episode was as pleasant a detour as we could hope. However, let's hope we get back on track when Fringe returns in seven days.
A few of our favorite Fringe quotes from the hour:
Broyles: I took the job to make the world a safer place for my family. Instead, I lost them. | permalink
Peter: Are you suggesting that this was some sort of Russian experiment?
Walter: Because they're from the other side of the world, Peter, it it so hard to believe they have their own stripe of the inconceivable? Really I'm always amazed at their advancements even 40 years ago. You wouldn't believe what those pinkos were up to. | permalink
Olivia: Walter, do you have any thoughts?
Walter: Reminds me of Christmas. Like a fire log that burns so hot it remains intact., holding the shape of its former self. You used to love that when you were a child. You'd poke the log with your little finger when it had cooled, and you'd draw genitalia on the reindeer decorations.
Peter: Happy memories, Walter. | permalink
Matt Richenthal is the Editor in Chief of TV Fanatic. Follow him on Twitter and on Google+.