Welcome to the Grey's Anatomy Insider Caption Contest - for the 186th week!
This week's Caption Contest champ: caimstery. Congratulations and well done!
Honorable mentions go out to facial, audrey and Crazy4Greys96.
Thanks to all for playing and good luck again next week ...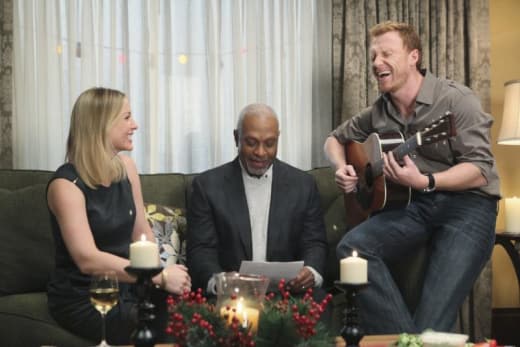 On the 12th day of Christmas, my true love gave to me:
12 pairs of diapers
11 Mercy Westers
10 gonorrheas
9 dead ex-lovers
8 amputations
7 trips to Africa
6 cardio gods
5 golden scapels!
4 choke holds
3 solo ops
2 glitter pagers
and a kidney in a glass jar!
Steve Marsi is the Managing Editor of TV Fanatic. Follow him on Google+ or email him here.