Life could be worse for Jon Tenney.
The actor is currently enjoying a recurring role on Brothers & Sisters, romancing Sally Field's Nora. On December 7, meanwhile, he returns to The Closer as Brenda's longtime love.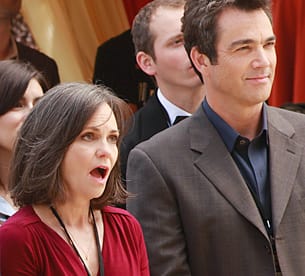 Without revealing detailed Brothers & Sisters spoilers, Tenny spoke to TV Guide Magazine this week about life as a wanted man on two of TV's most popular dramas. A few excerpts from the interview follow...
On his character's relationship with Nora: I don't want to give too much away, but I think there will be one camp of people that will think, "This is a really good thing" and another camp will say, "This is a really bad thing."
On other developments between him and Nora: There's a medical foundation he's involved with that's starting up facilities in underdeveloped countries. He's looking for investors and Nora actually offers to invest... she kind of insists and he reluctantly takes some investments from her, but then never ends up cashing the checks.
On upcoming, relationship obstacles on The Closer: There's a new addition to our family. Unfortunately, our kitty died last season, which was very sad. But we have a little kitten that's very cute. I named it Joel. That's the source of some conflict.... I also have a job opportunity that means possibly relocating.
Matt Richenthal is the Editor in Chief of TV Fanatic. Follow him on Twitter and on Google+.