As soon as it became clear that the third season of Mad Men was based in 1963, fans have been curious about how the show would handle the JFK assassination.
Months ago, creator Matthew Weiner said: "The Kennedy assassination is very well-trod territory, and I just don't see myself adding [anything] new to that."
He clearly changed his mind, as "The Grown-Ups" dealt entirely with this historical tragedy. Follow the preceding link for a recap, and read on for our detailed review of developments from it...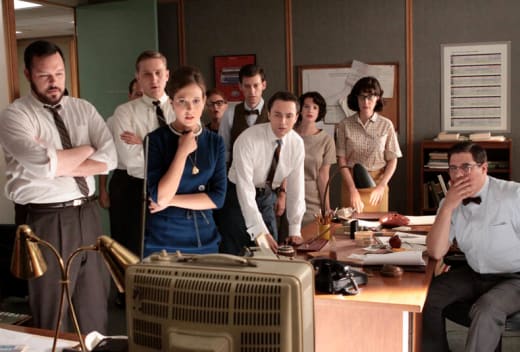 Weiner was in an unenviable position here: you can't avoid the event entirely, nor can you only mention it in passing. The only way to tackle the assassination is head-on; which is what took place in "The Grown-Ups," but in a rather disappointing fashion.
As most Mad Men fans agree, last week's episode was likely the best in series history. We can't be alone in wishing this week's installment had given us more insight into how Betty and Don moved on - or failed to - following his Dick Whitman admission. The couple seemed to be on the right path at the trick-or-treating conclusion to "The Gypsy and the Hobo."
It makes sense that brief reconciliation wouldn't have lasted... but it would have been nice to have seen it actually fall apart. Instead, viewers were thrust into one of the biggest events in U.S. history, a difficult backdrop to use against the Draper's marital problems, considering the state of mourning every citizen felt during this time. Life goes on, even when a President is killed, we understand.
But Betty went from almost forgiving Don last week, to practically accepting a proposal from Henry last night - and fans scarcely got to view any interactions between the couple in between. That's very un-Mad Men like.
That said, the simple line "I don't love you" was startling to hear from Betty, and creates a myriad of questions heading into next Sunday's season finale: is this really the end of the Draper marriage? If so, will Betty actually end up with Henry? How will the show handle that relationship in the future?
Those are issues for next week. These are the Mad Men quotes we loved from last night:
Betty: I want to scream at you for ruining all this. Then, you tried to fix it and there's no point. | permalink
Roger: No one else is saying the right thing about this.
Joan: You're really upset.
Roger: What's that about?
Joan: Because there's nothing funny about this. | permalink
Don: Everything's gonna be fine.
Betty: How do you know that?
Don: You'll see. | permalink
Don: Why are the kids watching this?
Betty: What am I supposed to do, Don? Am I supposed to keep it from them? | permalink
Matt Richenthal is the Editor in Chief of TV Fanatic. Follow him on Twitter and on Google+.